Last week, I knelt in an old church on hard wooden kneelers and sat on a high backed seat to listen to a Philippine priest say Mass in English in Prague, The Czech Republic. It was Pentecost . . .one of my favorite Sundays all year. I think the readings speak to the inclusivity of Jesus' message.
I didn't know if I would make it to Mass that day – I hate to sit for an hour not understanding a word of  a  service and Czech is far from my mother tongue.  But I found a church, "Our Lady Victorious" with a huge rich sounding pipe organ and a chorus which sang in English.  I guess I was supposed to be there!
After choir practice last month, here at home, our excellent young drummer asked me where I was going for the vacation I had mentioned.  I said I was accompanying my originally Czech husband, our son and his wife to Prague.
Alan told me he had been to Prague many times. Really? That's unusual. Why would that be, I thought. It seems his mother had been a Philippine emigre to the states and the Philippine Christians are especially devoted to the Infant Jesus of Prague whose statue rests in this same Church. Alan had gone with the family on pilgrimages to that city.
It turns out the Church is the first baroque structure in Prague, built by German Lutherans who were made to turn it over to the Carmelite order of Sisters in 1620. Alan told me the church was in Karmelitska Street but he didn't recall the name.
Lo and behold Karmelitska Street was very near our Pension and I went into the church on a Saturday to take a look.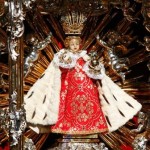 Sure enough, this very small – maybe 18" high – wax covered wooden statue was dressed in his finest and encased in glass.  Placed high up on a side altar he waits for the many pilgrims who visit.  A Spanish bride, who married a Czech nobleman, brought the statue as part of her dowry.  People come today because the Infant Jesus is said to have miraculous healing powers, especially for expectant mothers.
Behind almost every building, church and artifact in Prague, there is a story. They all interest me as I try to piece together the history of the early Western world — in my spare time!
However, the best part of this story —  and you can call it a coincidence, serendipity or the Holy Spirit… thanks to Alan and maybe the Infant of Prague, is that I found a Sunday Mass in English   . . .Had Alan not asked me where I was going…I may never have celebrated  Pentecost Sunday in Prague in May.